Tips for Finding the Best Pediatric Dentist for Your Child
While you may not actually enjoy going to the dentist, scheduling regular visits is a key aspect of maintaining good oral and dental health. As a dentist, I know that there are several factors that can improve your overall experience at the dentist's office, and finding a dentist you like and trust is perhaps the most important.
This is especially true for kids, who may suffer from childhood dental anxiety and need a pediatric dentist who can calm their fears.
Not sure how to find the best children's dentist for your child? I'm going to walk you through the entire process in this article.
With this information, along with a little research into dentists in your local area, as well as consistent, positive reinforcement, your child may begin to actually look forward to his dental visits!
What's the difference between pediatric and adult dentistry?
All dentists are doctors of oral health. However, pediatric dentists earn a specialization in children's dentistry by completing an additional 2-3 years of schooling beyond the standard undergraduate degree and four years of dental school required for all dentists.
This additional training focuses on child development and the dental needs of infants and children, which distinguishes pediatric dentists from their colleagues who only see adult patients.
Some of the specific areas of focus of children's dentistry include:
Preventive and invasive oral care of children: Pediatric dentists learn how to recognize tongue thrust, tongue ties, baby bottle tooth decay, enamel hypoplasia, and other conditions that only affect children.
Developmental and growth issues, related to the mouth, jaw, face and head: Baby teeth are very different from adult teeth, and pediatric dentists must learn how to handle different eruption patterns and the many stages of oral development that infants, toddlers, and children move through.
Treatment of children under anesthesia and sedation by dental sedation services. A good pediatric dentist will emphasize the importance of nose breathing (as opposed to mouth breathing). Learning this key function won't just improve the experience of a child's dental visit, but it will also improve sleep and overall health.
Treatment of medically compromised and special needs children, including focus on child psychology: Children with special needs require special dental care, and a pediatric dentist can work with parents to ensure that their child establishes the proper foundation for long-term oral and dental health.
Pediatric dentistry focuses on treatment of babies in the beginning stages of tooth formation, all the way through adolescence. Once a teen has reached 18 years old, the pediatric dentist is required to refer the patient to an practice of general dentistry.
What Makes a Good Pediatric Dentist?
It's common for children to be nervous about going to the dentist, and it's common for parents to be a little weary of who they let treat their child. That's why today, HomeTown Dental is sharing the main traits that make up a good pediatric dentist.
Knowledgeable and Informative
When it comes to your child's oral health, a good pediatric dentist should know the ins and outs of pediatric dental development. They should also be able to share their knowledge with you, the parent, to help you make sure that you're doing all that you can for your child's teeth.
Patience
How many kids do you know that will sit still while a dentist is poking around in their mouth? Those kids are somewhat few and far between, but that's okay. A good pediatric dentist should be patient and be able to roll with the punches. Many kids will be nervous when they first go back to see the dentist, but as the appointment continues, they will usually start to settle down and become more relaxed. At HomeTown Dental, we do everything we can to ensure that your child starts the appointment on the right foot and stays calm and comfortable throughout the entire visit.
Communicative
One of the ways our pediatric dentist helps to keep the kids calm is to actually engage with them. Many pediatric dentists will only talk to the parents and won't always initiate a conversation with the child. While it's immensely important that your child's dentist keeps an open line of communication with you, they should also be able to connect with your child. Making that connection can help to build rapport between the two and ultimately make for a more successful check-up.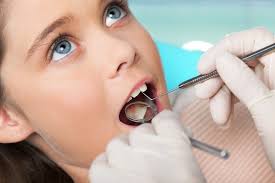 Five Personality Traits Your Pediatric Dentist Should Have
A good pediatric dentist needs to have many qualities in order to make children feel safe and secure when they are at the dentist.
Going to the dentist can be a very scary thing. Even for adults, thoughts of going to the dentist can bring on feelings of fear, dread, anxiety, claustrophobia, and more. Taking this into consideration, it goes without saying that going to the dentist can be downright traumatic for children. Children are much more sensitive and prone to anxiety when it comes to being sat down in a chair and having a masked person stick loud tools into their mouth.
For this reason, a trusted pediatric dentist is absolutely essential when it comes to getting dental work done on children. Pediatric dentists need to possess a special list of qualities if they wish to thrive in their position. Let's take a look at five personality traits your pediatric dentist should have.
A Love for Children
It goes without saying that your pediatric dentist should love children. Children are much different than adults and they require a certain amount of patience and understanding to effectively care for. Anybody who works with children needs to be kind and patient towards them.
Children may be underdeveloped in terms of mental capabilities, but one thing they can sense better than adults is if somebody likes them or not. If your pediatric dentist truly loves children, your child will be able to tell and will feel more comfortable around them.
Knowledgeable
All dentists need to be knowledgeable, however pediatric dentists need to be especially knowledgeable of children's teeth. There are many different things pediatrics dentists need to look out for like signs of thumb sucking, pacifier use, and teeth grinding.
Kid Friendly Office
Normal dentist offices are boring and they might scare a child. A pediatric dentist needs to have an office that is decorated and colorful to make the children feel much more at home. They should have things like cartoons playing on a TV, toys, and decorations to take the child's mind off of the dental work.
Educational
Children need to be educated on why it's important to brush their teeth, how to brush their teeth, and what will happen if they don't brush their teeth. A good pediatric dentist should be able to communicate all of this to your child in a way that isn't boring and monotonous.
Authoritative
Although a pediatric dentist needs to be kind, they also need to be able to get children to cooperate. A good dentist will usually be able to get a child to cooperate with them, without having to boss them around or scare them.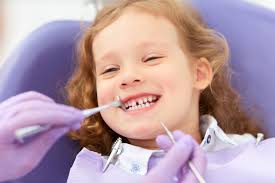 Qualities of a Good Pediatric Dentist
Many dental offices advertise themselves as family dental clinics or even pediatric dental clinics, but that doesn't actually mean they have a pediatric dentist. A pediatric dentist has a specialized education and desire to work with kids. Before you take your child to a dental clinic, be sure to ask if the dentist is a pediatric dentist. Once you arrive at the office, be on the lookout for these signs that you are in the right place for your child:
Atmosphere tailored for children – Atmosphere shouldn't end with toys available in the waiting room. The set-up of the whole office should be designed to make children comfortable while giving them room to be kids. The main areas should be child-safe, so that there is no need to constantly hold your child in a death-grip to protect them from the office décor or vice-verse. The exam room, especially, should be a place that promotes comfort. It should be uncluttered and the dental chair easily approached by both children and their accompanying parent.
Child-sized supplies – Kids have smaller mouths – you probably noticed that, right? As much as they can, a pediatric dentist will make allowances for this size difference. For example, pediatric dentists should be able to make the x-ray process a comfortable one with child-sized film. Some pediatric dentists have gone one step further with a digital x-ray sensor that more accurately and painlessly takes the image of the child's teeth.
Talks on the level appropriate for each child – A good pediatric dentist will be able to talk to children to help them understand what is happening. They will be mindful that young children might find the environment and tools a little intimidating. Talking to a child at the right level is a learned and practiced skill that every parent should expect of their child's dentist.
Adjusts approach to fit the individual child – Every child is different, so It is important for a dentist to be flexible and accommodating. Not every girl likes princesses and not every boy likes pirates, but every child likes adults to talk at their level and show interest in them.
Respect, patience and care – Children need to feel respected and cared for by the dentist before they can trust them. A good pediatric dentist understands this! It might take a little more time, but it makes for a happier patient and a brighter dental future.
What's the best way to make my child feel comfortable at the dentist?
While it's important to get your child to the dentist early and often, this is obviously better accomplished if your child feels comfortable at the dentist's office. Choosing the right dentist has a lot to do with that, but as a parent, there are other things you can do to put your child at ease.
Let him know that the appointment is coming up: Don't wait until the day before the visit to tell your child that he has an appointment. Children react better when they are given time to mentally prepare.
Read dental-related kids' books to put your child at ease: Check out the library or the Internet for resources that will help calm and even excite your child about taking care of his teeth and mouth.
Listen to his comments, questions, and concerns: Try to be as forthcoming as you can if your child expresses any worry about the appointment.
Try deep breathing techniques: Encourage your child to breathe slowly and deeply in order to calm their mind and body. This process works before and during the visit.
Emphasize the positive aspects of proper dental care: A childhood filled with quality, consistent dental care will provide a great foundation for your child's ongoing dental health. Not only will it form good habits, but it will prevent the more serious issues he could have as an adult.
Role play through a dental visit: You won't have all the supplies, but you can have fun going through some of the possible steps that will occur during a routine visit while having fun pretending with your child.